2021 Sporting Clays Classic (Updated Date)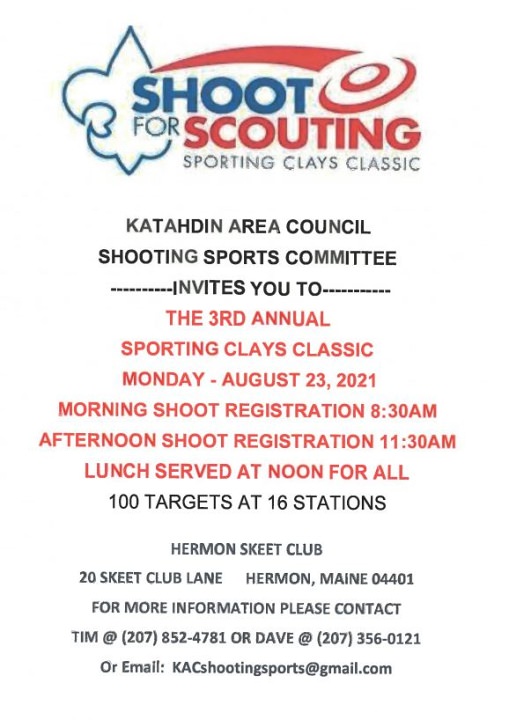 Date/Time:
Sep 20, 2021 8:30 am to 3:00 pm
Location:
Hermon Skeet Club
20 Skeet Club Lane
Hermon, ME 04401

Good Morning Katahdin Area Council BSA supporters,
Due to an unforeseen scheduling conflict, we need to make a date change to the Sporting Clay Classic fundraising 2021 event. The new date for our event is Monday, September 20th, same location and same times. We do apologize for the need to make this change, but the Committee recognized some conflicts with our previous date the we could not work around. We hope this allows you time to adjust your schedules so you can join us for this great event. If you need to make changes to your team members or your shooting time, please let us know and we can make those adjustments for you. This date change also allows us the ability to add much needed sponsorships and shooting teams or individual shooters. Please pass on the information of our event to your friends that we may not have reached yet. We welcome all that want to participate as a much needed participant or sponsor. A special thanks our Silver Event Sponsor: P. D. Q Door Company for leading the sponsors we currently have and our host for the event, The Hermon Skeet Club.
On behalf of the Katahdin Area Council Shooting Sports Committee, we greatly appreciate your support of this event and we look forward to seeing you on September 20th at the Hermon Skeet Club. Please reach out to a KAC Shooting Sports Committee member if you have any questions or need help.
Thank you,
Tim Seymour
KAC Shooting Sports Committee Chair
2021 Sporting Clays Classic Information