2023 Unit Rechartering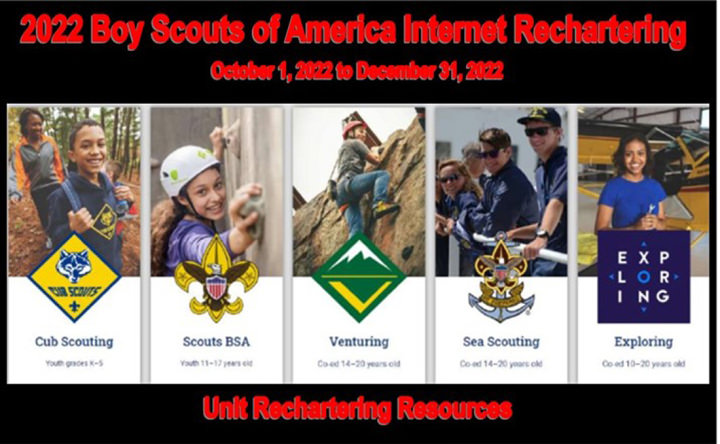 The Boy Scouts of America issues charters annually to community organizations to use the Scouting program under their own leadership as a service to their children, youth, and families. Charter Renewal, or rechartering, refers to the process that renews your organization's charter and the registrations of your members and adult leaders.
Internet Rechartering 2.0
The Boy Scouts of America offers an online charter renewal process for units. Recently, this process was moved to improve systems and increase speed and efficiency in processes. Located at https://advancements.scouting.org/login the new Internet Recharter system provides a more simplistic approach to the rechartering process and can be completed from start to finish without a single piece of paper changing hands.
Use these resources to help your unit's renewal.
Internet Rechartering webinar replay
2022 December Recharter Unit Timeline
Scouting Forum (Help with your Rechartering Questions)
Click here to Access the Recharter Portal
Fees
$100 Unit Charter/ Affliation Fee
$75 Youth Fee
$45 Exploring Youth Fee
$25 New Scout Fee
$45.00 Leader Fee
$2.40 Insurance for Youth and Adults
$15.00 Scout Life Magazine Fee (Optional)