Central Highlands District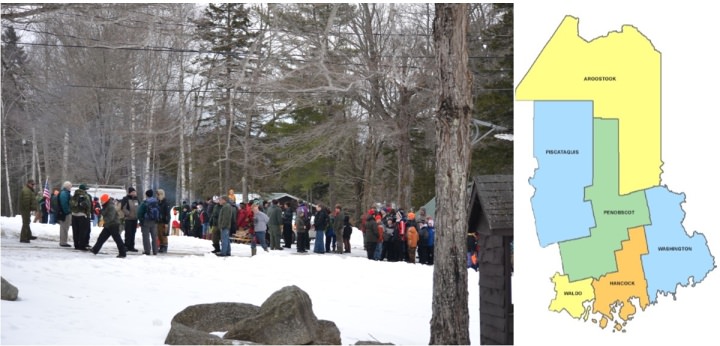 CENTRAL HIGHLANDS DISTRICT
The Central Highlands district covers all of Penobscot & Piscataquis counties and is the largest district in our council. It is the home of Paul Bunyan, Bangor Raceway, Bangor International Airport, The Bangor Area Chamber of Commerce, Anah Shriners and many other civic minded organizations like Rotary International, Kiwanis, Lions and Masonic Lodges. There are many natural wonders like Mount Katahdin, Moosehead Lake and find hundreds of thousands of acres of undeveloped frontier land; countless mountain peaks; more than 200 waterfalls; and thousands of miles of trails to explore on foot, bicycle, skis, snowmobile, or ATV. With forests ripe for wildlife watching and hunting; and numerous lakes, rivers, and streams to paddle and fish; you'll find countless opportunities for outdoor adventure.
The Maine Highlands' rich natural landscape is also dotted with vibrant small towns and home to Maine's third-largest urban center, Bangor. Concerts, museums, galleries, local food, and craft beer abound. Annual festivals and fairs celebrate everything from town histories to whoopie pies, seaplanes to ice fishing.
Old Town is the ancestral home of the Penobscot Nation & the Penobscot River still plays an important role in our community and is a natural wonder to those who enjoy the outdoors. The region is fortunate to have Husson University, The University of Maine, Beal College, Old Town Canoe, World Famous Dysart's Restaurant, Social Media Star, The Duck of Justice, the Lincoln Lakes and the scenic beauty of Maine's Central Highlands.
This district serves the following communities: Bangor, Bradford, Bradley, Brewer, Burlington, Carmel Charleston, Corinna, Corinth, Dexter, Dixmont, East Millinocket, Eddington, Etna, Exeter, Garland, GreenbushHampden, Holden, Howland, Hudson, Kenduskeag. Kingman, Lagrange, Lee, Levant, Lincoln, Mattawamkeag, Medway, Milford, Millinocket, Newport, Old Town, Orono, Orrington, Passadumkeag,Patten, Plymouth, Springfield, Stacyville, Stetson, Stillwater, West Enfield Winn, Abbot, Brownville, Brownville Junction, Dover Foxcroft, Greenville, Greenville Junction, Guilford, Milo, Monson, Sangerville, Sebec, Shirley Mills
Central Highlands District is located in the heart of the Katahdin Area Council. Come for a visit, stay for a lifetime. Scout with us!