KAC Eagle Scout Resources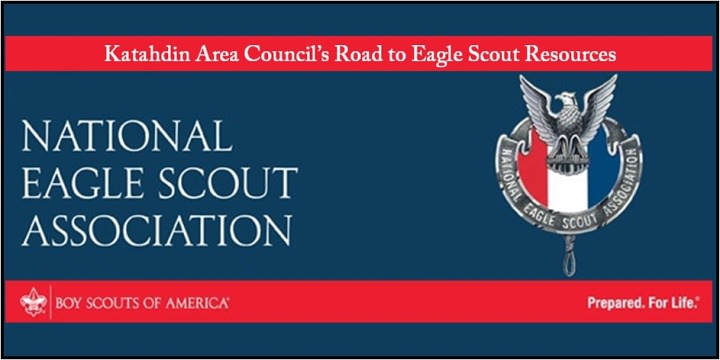 BSA National Eagle Scout Resources
Rank Requirements for Eagle Scout
Eagle Scout Service Project Workbook (Submit only Typed Workbook)
Eagle Scout Rank Application Form (Submit only Typed Application)
National Eagle Scout Association
Katahdin Area Council NESA Board
The first Monday of the month is the NESA Eagle Scout Board of Review unless it falls on a holiday in which case the meeting will be on Tuesday. The Eagle Scout Project proposals are reviewed on the second Monday unless it is a holiday.
Currently, our meetings are conducted in person at the council office or, via Zoom when necessary. This requires that the deadline for receipt of Applications, Workbooks, required materials and proposals is one week prior to the meeting as per the schedule listed below. This will allow us sufficient time to get the materials out to our NESA Board members and set up meeting notifications for our candidates and the NESA Board
Scouts BSA Life Scouts MUST submit their Eagle Scout Project Prior to attending a Project review with NESA. Date and time will be communicated to the Scout prior to attending a meeting with NESA
♦Eagle Scout Project Review Registration must be completed. See below on this page.
Here is the 2023 Eagle Scout Board of Review Schedule:
| Receipt of Eagle BOR Material Deadline | Eagle Scout Board of Review |
| --- | --- |
| November 20, 2022 | December 5, 2022 |
| December 23, 2022 | January 3, 2023 |
| January 30, 2023 | February 6, 2023 |
| February 27, 2023 | March 6, 2023 |
| March 27, 2023 | April 3, 2023 |
| April 24, 2023 | May 1, 2023 |
| May 29, 2023 | June 3, 2023 |
| June 26, 2023 | July 3, 2023 |
| July 31, 2023 | August 7, 2023 |
| August 28, 2023 | September 5, 2023 |
| September 25, 2023 | October 2, 2023 |
| October 30, 2023 | November 6, 2023 |
| November 27, 2023 | December 4, 2023 |
Here is the 2023 Eagle Scout Project Review Schedule:
| Receipt of Eagle Project Material Deadline | Eagle Scout Project Review |
| --- | --- |
| December 5, 2022 | December 12, 2022 |
| January 3, 2023 | January 9, 2023 |
| February 6, 2023 | February 13, 2023 |
| March 6, 2023 | March 13, 2023 |
| April 3, 2023 | April 10, 2023 |
| May 1, 2023 | May 8, 2023 |
| June 3, 2023 | June 12, 2023 |
| July 3, 2023 | July 10, 2023 |
| August 7, 2023 | August 14, 2023 |
| September 5, 2023 | September 11,2023 |
| October 2, 2023 | October 9, 2023 |
| November 6, 2023 | November 13, 2023 |
| December 4, 2023 | December 11, 2023 |