Wilderness First Aid Training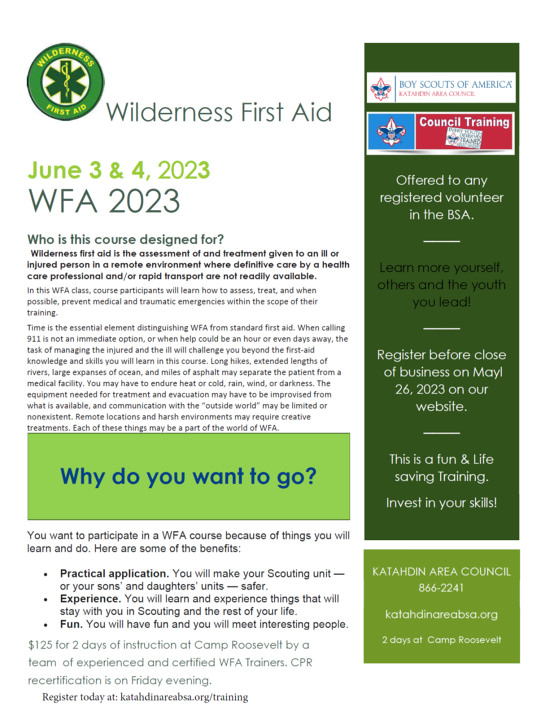 Date/Time:
Jun 3, 2023 6:00 pm to Jun 4, 2023
Location:
Katahdin Scout Reservation
45 Camp Roosevelt Rd
Eddington, ME 04428

BSA Wilderness First Aid Hybrid Course –
This new awareness-level online course will allow scouts, scout leaders, and staff to learn the cognitive information needed to respond to injuries or sudden illnesses when medical care is more than an hour away. Through the online course platform, individuals will be able to prepare for their upcoming camps in the comfort and safety of their own homes. Here is the link to get started.
https://www.ecsinstitute.org/scouting-wfa
Upon completion of the course, instructions will be provided to secure their course completion certificate. Individuals will then be able to complete a physical skills check on-site as needed to ensure comprehension of the material. The Practical skills portion of the course will be offered on Saturday June 10, 2023 from 8AM-5PM at Camp Roosevelt Health Lodge.
Online portion of course is $40.00 – Hands-on "Practical" is $85.00 Current CPR is a prerequisite for the course. AHA CPR 2 year cert will be offered on Friday evening for a cost of $30.00 at Camp Roosevelt Health Lodge.